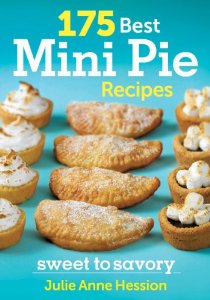 I received a free copy of 175 Best Mini Pie Recipes book to facilitate this review.
I love the mini treat trend that is going on right now. So many delicious treats in bite size portions. 175 Best Mini Pie Recipes (aff link) really does offer up the best recipes with everything from sweet to savory recipes.
An entire chapter of the book has color photos that walk you through, step-by-step, on how to prepare tart shells, galettes, hand pies, lattice crust, phyllo packets, phyllo triangles, puff pastry, and pie pops. This really helps especially if you are new to working with a particular pastry dough.
After that the book is packed with delicious looking recipes. Chapters include fillings, glazes and toppings, the top ten classics, berry yummy pies, fruit pies, chocolate pies, holiday pies, and savory pies.
The recipes are so easy to follow and will have you whipping up mini pies and tarts for family and friends in no time at all. I can't wait to try a lot of these recipes. This is a great book to add to your cookbook collection.

Amazon Book Description:
A novice or experienced baker will be enchanted with Hession's recipes. She shares tips and techniques from her wide experience in creating perfect mini pies, and provides recipes for a wide array of crusts including gluten-free and vegan options. Flavor combinations range from the sweet and sumptuous to the hearty and savory. Here is a sampling of the recipes:
The Classics like Lemon Meringue Tartlets, New England Lobster Pies and of course, Classic Apple Pies
Sweet, fruit-filled pies like Very Berry Goat Cheese Pies, Strawberry Basil Hand Pies, and Port Glazed Concord Grape Pies
Custard and Caramel pies like Maple Nut Caramel, Bananas Foster or Mini Brown Butter and Golden Raisin Tartlets
Holiday pies such as Festive Spiced Cranberry Pies and Pear and Gingerbread Tartlets
Savory offerings such as Zesty Pork Empanadas, Potato, Leek and Gorgonzola Pies and Caramelized Cauliflower Pies with Pancetta and Sage
Vegetarian Pies like Baked Brie and Tomato Jam Turnovers or Moroccan Chickpea Pies.
Simply delicious recipes, luscious photos along with step-by-step photos for perfecting the perfect pie crust and easy-to-follow instructions make this the definitive mini-pie cookbook.
What is your favorite mini pie recipe?