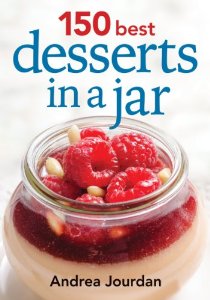 Mason jars seem to be all the rage right now. I love how jars are being used for everything from decor to serving food. 150 Best Desserts in a Jar offers everything from pudding and cake to sweet soups and parfaits.
Browsing through the book I found so many recipes that I have to try. The recipes are well written and easy to follow. Most recipes include tips on how to make the recipes even easier, the best places to find ingredients, how to prepare the jars and so much more.
If you are looking for a fun new way to serve desserts to your family, friends or even for your next party you'll want to pick up this book.

Book Description From Amazon:
Whether it's a beveled antique jar picked up at a flea market, or that classic Mason jar saved at the back of a kitchen cupboard, all kinds of containers can become sparkling, creative and beautiful ways to prepare and serve divine desserts. These sublime recipes are single-serving treats, which makes them the perfect ending to a family meal or dinner party. They also make a great gift, staying fresh and traveling well — perfect for making ahead.
Jourdan has developed a wide array of recipes that are loads of fun to make — everything from puddings and trifles to cobblers, pies and cakes. And because the jars allow for things like freezing or setting jellies in layers, the colors and textures are special.
The "From the Fridge" (cold recipes) section includes favorite ingredients like fruit, chocolate, "jello" and creams – resulting in such magical results as:
Cantaloupe and Raspberry Splash, Chocolate Pudding with Mint Sorbet, Brownie Frozen Delight, Coconut Cream Dream, Lemon Trifle, Cherry Berry Smoothie.
The "Warm and Comforting" chapter includes custards, cakes and bread puddings such as:
Strawberry and Rhubarb Shortcake, Peach and Nutmeg Cobbler, Apple, Apricot and Vanilla Bread Pudding, Marble Chocolate Cake with Coffee Cream Sauce.
 The "Deliciously Different" chapter features innovative and inspired recipes for:
Banana and Bacon with Strawberry Swirl, Hot Mango and Cilantro in Jelly, Cardamom Frozen Fruit Salad, Fig and Goat Cheese Cake, Marshmallow Dream.
Serving (and sometimes preparing) the desserts is a great opportunity to get creative — from funky to traditional. There is also information on choosing the right type of jar along with helpful baking tips and techniques, and the two dozen color photographs provide inspiration for a unique dessert for any event.
Have you served desserts in a jar?