As much as I enjoy tent camping (yes, in an actual tent that I pitch) ever since I learned about these amazing luxury glamping resorts, like Colorado Glamping, I've wanted to go.
Glamping is like camping on steroids and I want to experience it.
What Is Glamping?
Glamping provides a real bed, furniture, running water, and electricity set in a beautiful location far, far, away from the hustle and bustle of everyday life under a canvas tent. It's under a tent so I can still count it as camping, right? Just don't forget to pack the bug spray!
Browsing around the internet (yes, I was playing instead of writing—sigh) I found these lovely glamping outfitters. So many of them offer spectacular backdrops. I would love to go glamping with any of them.
Everything looks so much comfier than my tent on the ground. I've included a link to each of them in case you are interested in learning more.
Note: We finally made it glamping to this tiny house in Orlando, but still, have these glamping places on our must-visit list.
10 Must Visit Luxury Glamping Resorts
There are tons of great luxury glamping resorts you will want to visit, as well as amazing tent camping locations out there.
I've done some fun research, and come up with what I think is now my must-visit glamping resorts.
Now, it's time to figure out when I will go glamping, and which location will be first!
Almost all of the luxury glamping resorts in this post are located in the Rocky Mountain area or the Western United States.
Im on the hunt for glamping destinations East of the Mississippi River.
I have one in the Midwest (which is pretty epic!). I'll keep you posted on what other ones I find.
GLAMPING WYOMING | TETON NATIONAL PARK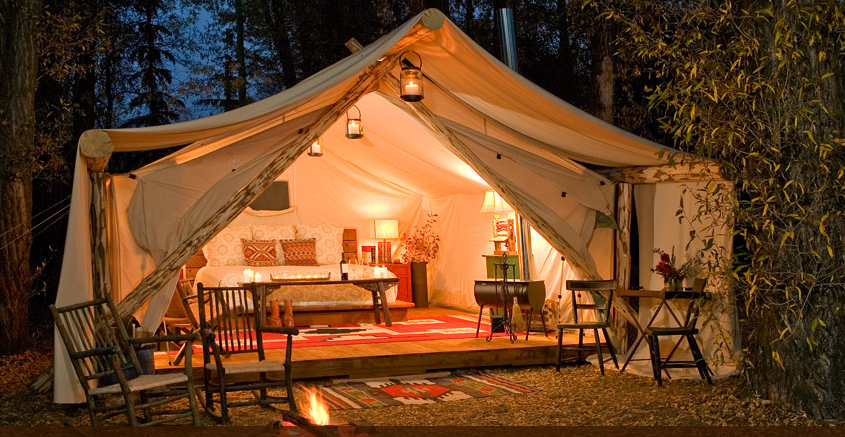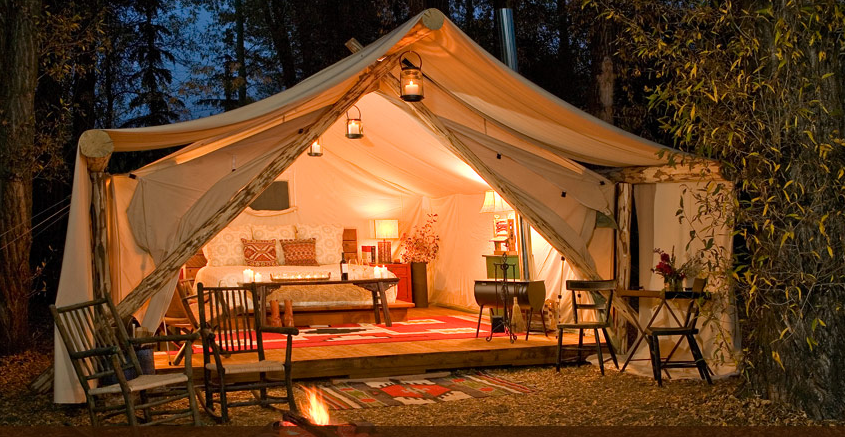 Fireside Resort Jackson Hole, WY
Jackson Hole, WYOMING: If you want to see what are probably the most breathtaking views you will ever see, this area of Wyoming is the ideal location. Whether you stay in Jackson Hole or right next to Yellowstone itself, Fireside Resort Jackson Hole is definitely number one on my personal list for glamping destinations.
GLAMPING IDAHO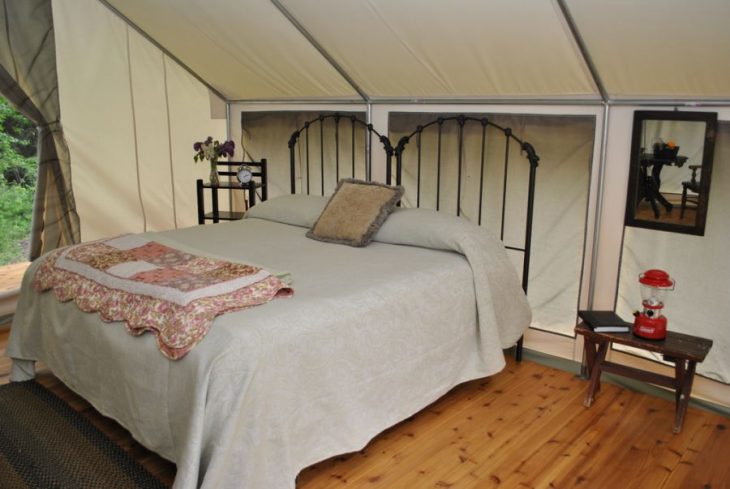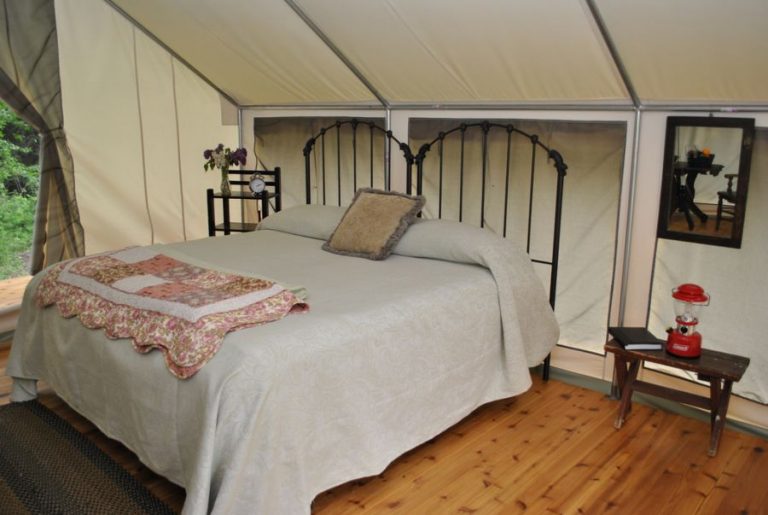 River Dance Lodge in Syringa, Idaho
Syringa, IDAHO: Located at Idaho's Outdoor adventure resort the River Dance Lodge glamping tents are located along a rushing creek. Each luxury tent includes a king-sized bed, chairs, a small table and a wood stove.
GLAMPING COLORADO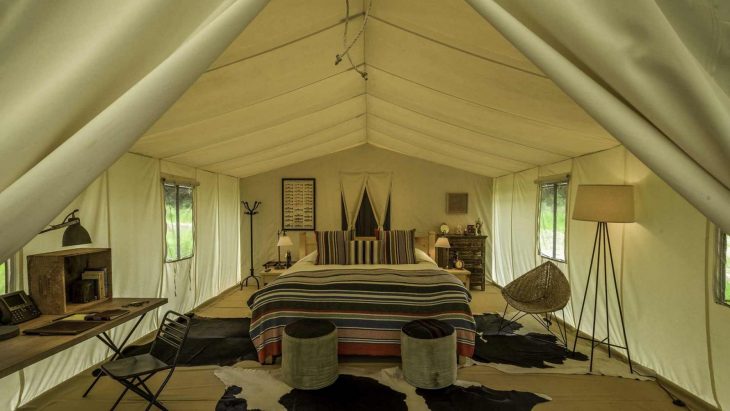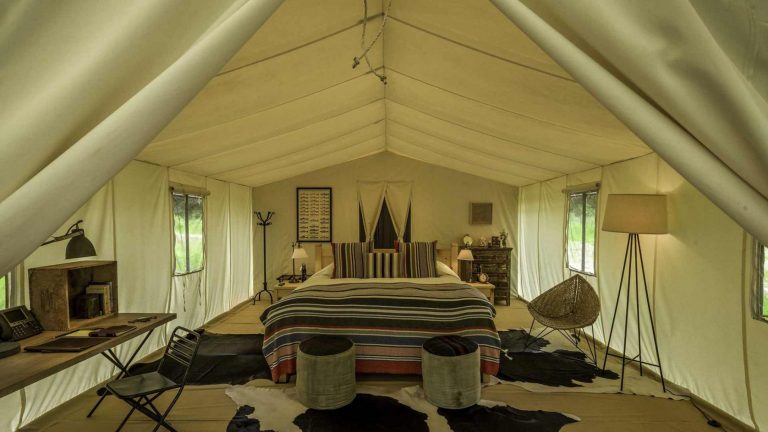 Dunton Hot Springs, COLORADO: Hot springs like the ones in Colorado are ideal for a warm soothing way to wash your troubles away for a few days while camping. It makes a rustic adventure feel more like a delightful day at the spa. What more could you ask for in a glamping destination? Plus the glamping tents at Dunton Hot Springs have en-suite bathrooms (music to my ears…..).
Be sure to stop by Garden of the Gods while you're in Colorado
GLAMPING UTAH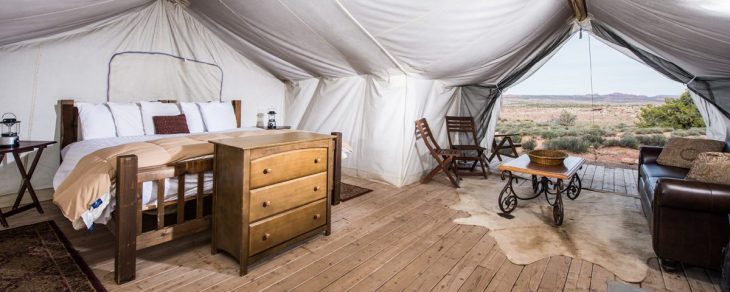 Moab, UTAH: Seriously divine glamping tents, Moab Under Canvas, is located in an area that is packed full of outdoor adventures. These are your everyday outdoor adventures like hiking and biking, nope, this is an outdoor adventureland for hot air ballooning, white water rafting, Hummer tours, rock climbing, Jeep rentals and so much more. After a full day of adventuring, you'll return to a very comfortable glamping tent for a good nights sleep.
GLAMPING MONTANA | YELLOWSTONE NATIONAL PARK


Stone Creek Outfitters, Montana
Darby, MONTANA: Stone Creek Outfitters is strategically located near the Montana and Idaho border giving glampers the opportunity to explore a wide range of outdoors and adventures. In addition to the outdoor fun at Stone Creek Outfitters takes glamping to a whole new level by offering some fun outdoor learning sessions like mountain orienteering, dutch oven and campfire cooking and mountain horsemanship.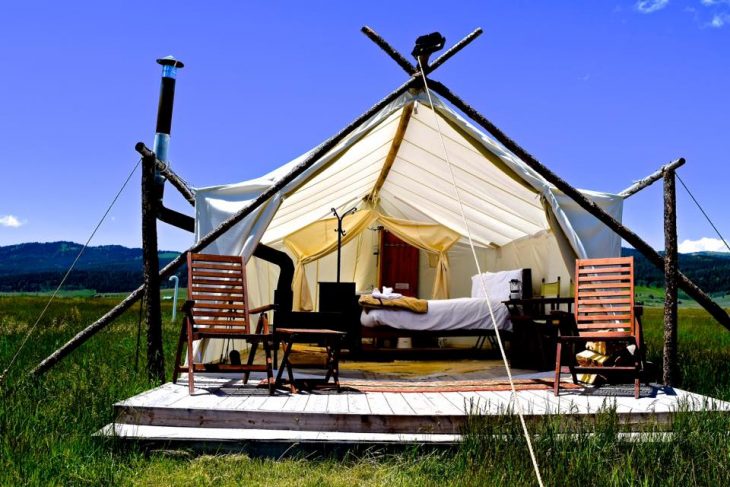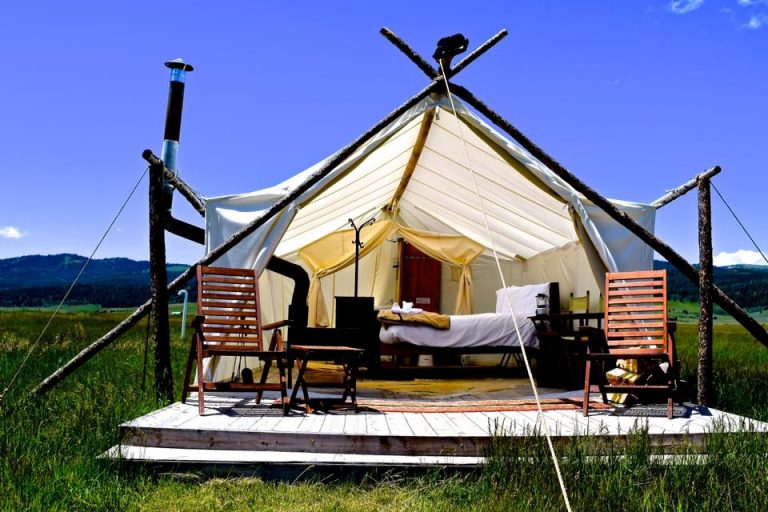 Yellowstone, MONTANA: Located just 10 minutes from the West entrance of Yellowstone National Park the camp offers visitors incredible views, a quiet location, on-site restaurant and easy access to Yellowstone!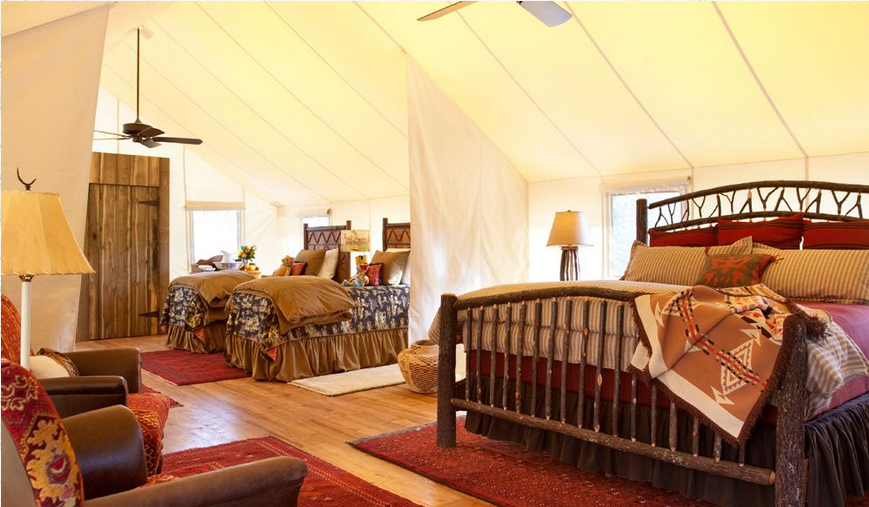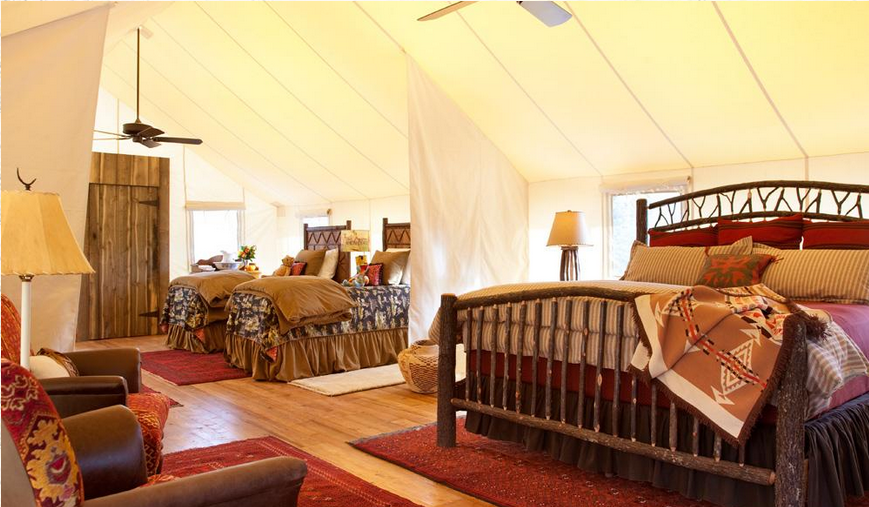 The Ranch at Rock Creek, Montana
Rock Creek, Montana: Don't these glamping destinations just scream for you to book them now? Whether you want classic rustic feel or a bit of a modern twist on the rustic idea, glamping destinations like these in Montana are ideal for your travel adventure.
GLAMPING CALIFORNIA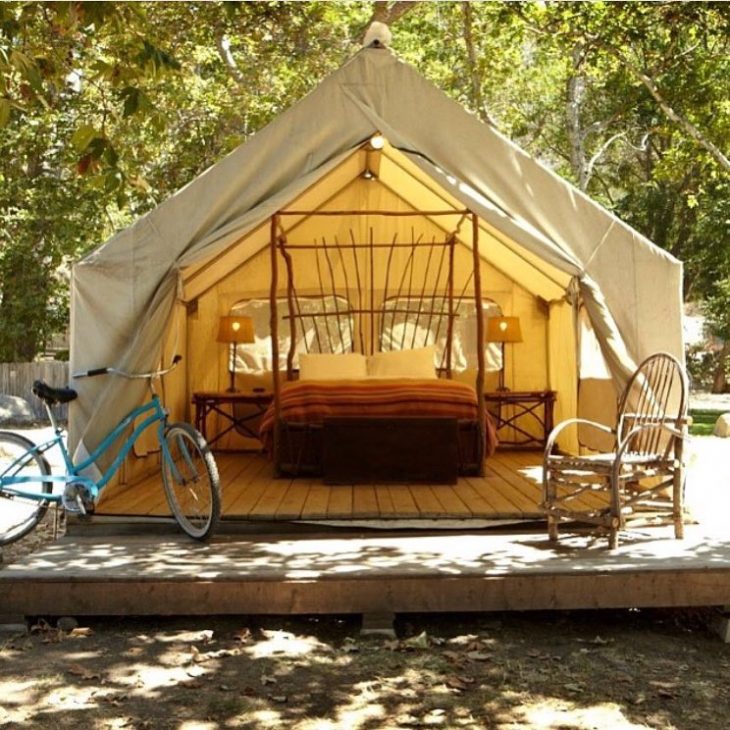 Santa Barbara, CALIFORNIA: For those who seek a more traditional camping experience in Southern California but want more of the creature comforts of home, the safari glamping tents at El Capitan Canyon is the answer.
GLAMPING WASHINGTON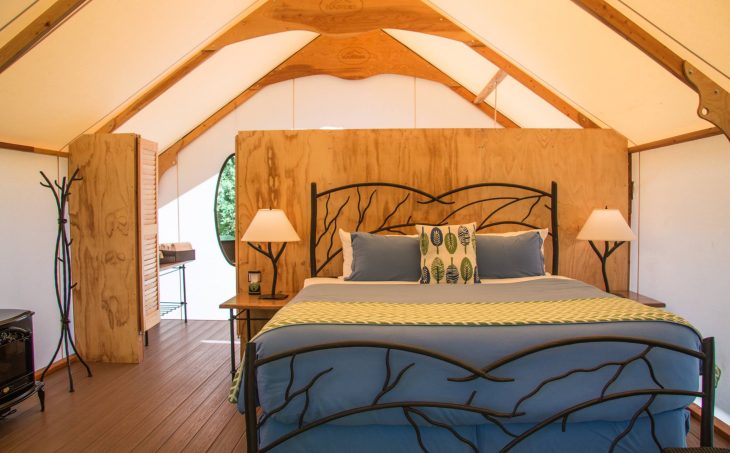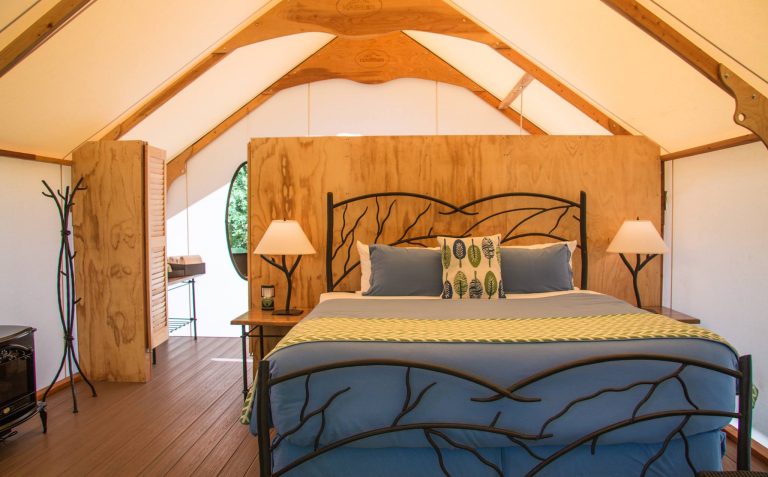 Friday Harbor, Washington: Located in the San Juan Island these glamping tents offer all the amenities of a hotel but in the great outdoors. Sure beats pitching a tent and sleeping on the ground. Snuggle into one of these cozy queen bed instead.
Here's a fun activity at Lakedale that I know you'll want to take advantage of. During the season they offer a Gourmet Glamping Dinner Series. They invite top chefs from the Pacific Northwest and pair them with regional winemakers for an unforgettable dining experience. Swoon…yes, please!! That sounds like an amazing experience to add to your weekend getaway.
Lakedale also offers year-round luxury yurts! Be sure to make your reservations soon! Each luxury yurt includes a large sitting area with a sleeper sofa, rocking chair, dining table, as well as a flat-panel TV, wet bar, refrigerator, and bathroom.
GLAMPING MICHIGAN
Here is my one lonely East of the Mississippi option for Glamping.
I'm working on a follow-up post that will have more options for us on the East Coast and in the Midwest.
This may be the only one but it's a pretty epic choice.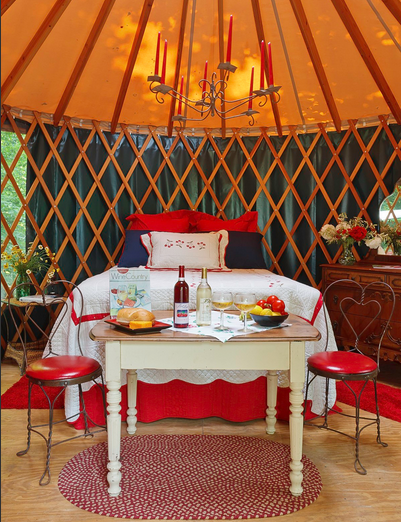 Wild Cherry Resort, Michigan
Lake Leelanau, Michigan: Located in one of the most beautiful regions of the state and very near to Sleeping Bear Sand Dunes, a stay at Wild Cherry Resort is a must! Plus, the many nearby wineries and breweries make this even more appealing. Come see what you've been missing…this is an amazing destination and will quickly become a favorite.
Enjoy a great resort stay and looking for some fun in the sun? Check out my pick for the Best Sandals Resort!
No matter what glamping destinations you choose to add to your travel bucket list, this fun new way to camp is sure to please even the pickiest person in your family. No longer do you have to worry about hard beds and mosquito netting over sleeping bags. Glamping is just the way to spend a fun weekend away with family.
Want to create your own DIY Luxury Glamping Tent?
My friend over at Travel Inspired Living has taken the guesswork out of how to create a glamping tent in your backyard. You can check it out here: https://travelinspiredliving.com/easy-diy-backyard-glamping/
***Pin Luxury Glamping Resorts You'll Want to Visit to Pinterest***