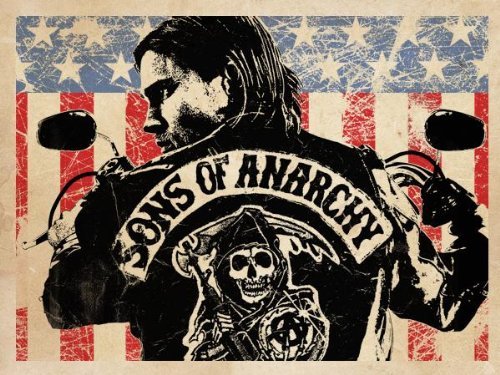 Am I the last person on the planet to discover Sons of Anarchy? I stumbled across this FX tv series when I signed up for my free month of Amazon Prime membership right before Christmas. Amazon Prime gives me access to all kinds of free movies and tv programs and I ended up finding Sons of Anarchy. Â I'm scared to look around and see what other awesome programs are available. I can only handle one addiction at a time.
From Amazon: "Sons of Anarchy is an adrenalized drama with darkly comedic undertones about a notorious outlaw motorcycle club intent on protecting their sheltered small town of Charming, California against encroaching drug dealers, corporate developers and overzealous law officers."
Oh my. What is it about bad boys that is such a draw? Honestly, the Sons of Anarchy (SOA) make my heart beat just a little faster. I watched the entire first season in about three days. No wonder I'm not getting any work done. I'm too busy drooling over the SOA hotties.
Sons of Anarchy shows you the dirty side of an outlaw motorcycle club, but at the same time shows that the characters have honor and integrity, albiet their version of it. There is so much depth to the main characters that I just can't get enough. There are secrets waiting to be revealed and the directors and writers, very wisely, only give you a little clue during each episode.
After Episode 1 Season 1 I was hooked and I watched season 2 and season 3 over the holidays.  Thankfully, Seasons 1-3 are free to watch online with Amazon Prime. Sadly, the only way I can watch Season 4 is to pay for it

I did cave and pay for Episode 1 Season 4 and I know I'll be buying the rest of the episodes. While watching this episode I told Alan it's pretty bad when you are rooting for the "bad" guy because they seem like a better option over the "good" guy. Unfortunately, Sons of Anarchy is a fall series. It generally runs September through December. That means after I finish watching Season 4 I'm going to have a hell of a long wait for Season 5. Maybe I'll finally start getting some real work done

How about you? Do you have a program that you are addicted to?