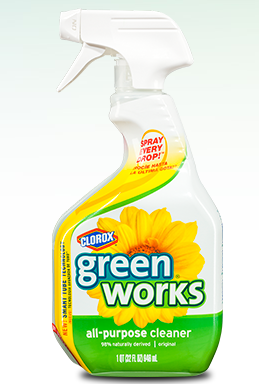 I participated in a campaign on behalf of Mom Central Consulting for Green Works. I received a product sample to facilitate my review and promotional item as a thank you for participating.
My family has gone more green. We are trying to recycle every week, and we are finding new uses for old items as often as we can. Before we throw anything away we consider if it can be used by someone else for some other purpose. We donate old clothing and household items to Goodwill. Living a green life is a part of our daily routine and we aim to keep it that way!
When we made the move to living a greener life cleaning products were an issue we had to overcome. I know that most of the products on the market are not only bad for the planet, but also for overall human health. To keep my home clean and green we rely on Green Works brand products. I use Green Works Naturally Derived All Purpose Cleaner all over my home. It works great on countertops, in the bathroom and as a general spot cleaner. It fights through grease, dirt and grime without leaving any residue or exposing my family to harsh chemicals.
I like that Green Works All Purpose Cleaner is effective, safe for my family and my world and it is most importantly affordable. It will not cost anymore than other chemical based options on the market.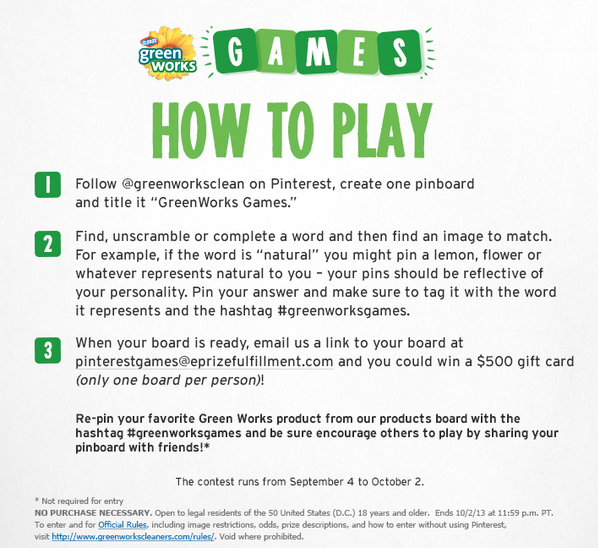 Green Works is making it a ton of fun to be green! Did you know you can play Green Works games on pinterest? All you need to do is follow #greenworksclean on pinterest. Then create a board and title it GreenWorks Games. Find, unscramble or complete a word and get busy pinning an item to correspond with the word that reflects your unique personality. Make sure you use the word you have found or unscrambled in your pin. To finish, use the hashtag #greenworksgames with your pin. Then keep playing for your chance to win! To learn more about how to play visit Greenworks on pinterest.
Going green has never been easier or more fun! Greenworks offers great option to keep your home clean and to protect your family and the environment from harmful chemicals. The price is right and the results are impressive. Switching to Greenworks products is one small step everyone can take to make a huge leap for the planet.