There are many holiday traditions like decorating trees, leaving cookies for Santa, Christmas caroling, and all the other things that go along with Christmas. However, one Louisiana tradition that I find most intriguing is the Bonfires on the Levee. This tradition started decades ago and still continues today. The story goes, as it was told to me, that back in the 1800's large bonfires were lit along the Mississippi River to guide Catholics to Midnight Mass on Christmas Eve. Today, the lighting of the bonfires continue, but as with most traditions, the reason behind it has altered over the years and now it's said the bonfires on the levee are lit to light the way for Papa Noel (aka Ole St. Nick) to find his way to the children of St. James Parish.
This tradition is as old as hanging stockings by the fire and hearing stories of Papa Noel and a Cajun Night Before Christmas. Built completely of wood, usually in a three or four sided teepee style, the bonfires are manned by local families that usually live along or near the levee. Bonfire permits are required and structures can't exceed 15′. That being said other shapes, besides the teepee, have been created for a twist on this holiday tradition. Sadly, I didn't see any fun shapes on this trip.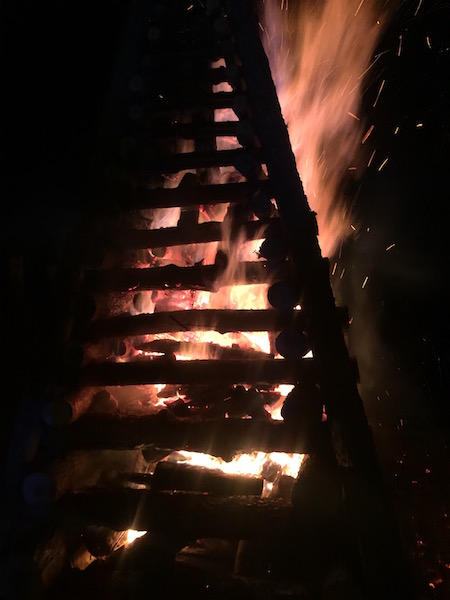 To help kick off this annual tradition the Festival of the Bonfires is held in early December. Complete with a gumbo cook off, live music, carnival rides, and, of course, the lighting of a bonfire on the levee. Lutcher park hosts all the festival activities except, of course, the bonfire. Buy your festival ticket, enjoy some gumbo and music and then hope on the shuttle bus to head over to the levee about 2 miles away.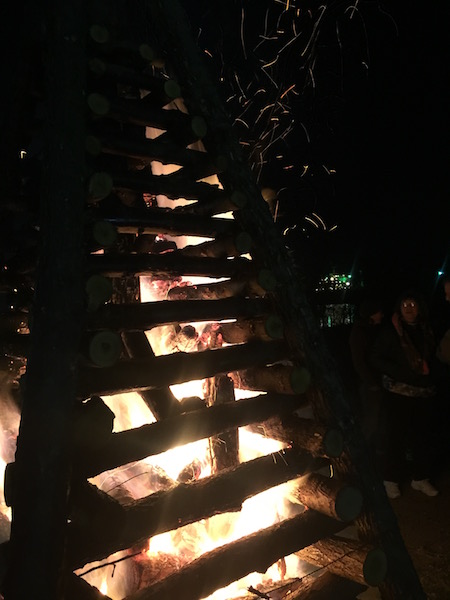 Once you arrive at the levee make sure you have good walking shoes on because you'll be walking uphill to the top of the levee. There isn't a path, except the one you make, so you'll need to be mobile. It definitely isn't handicap or wheelchair accessible.
At the bonfire you can have an up close and personal experience of the bonfires and then use your imagination what it will look like with 150  bonfires on the levee on Christmas Eve. Once you are done enjoying the fire take the bus back to the festival to enjoy more merriment and fun.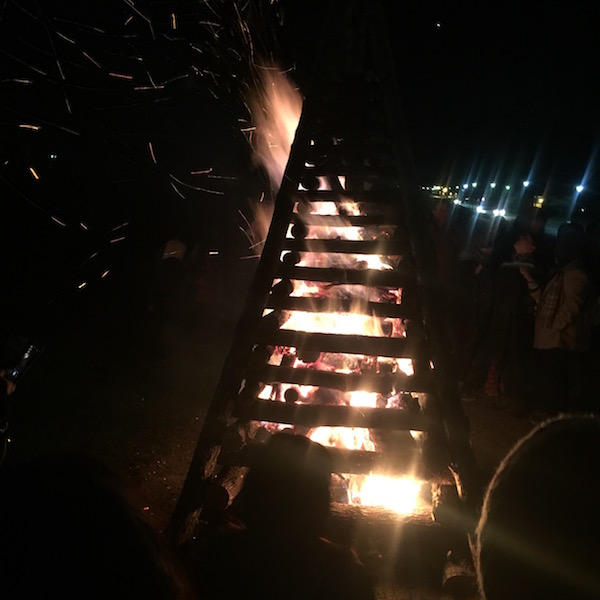 Want to see all the bonfires ablaze at once? Drive along River Rd on Christmas Eve around 7pm when 150 bonfires on the levee, along a 5 miles stretch, are lit to help guide the way of Papa Noel to St James Parish, Louisiana.