02.2.13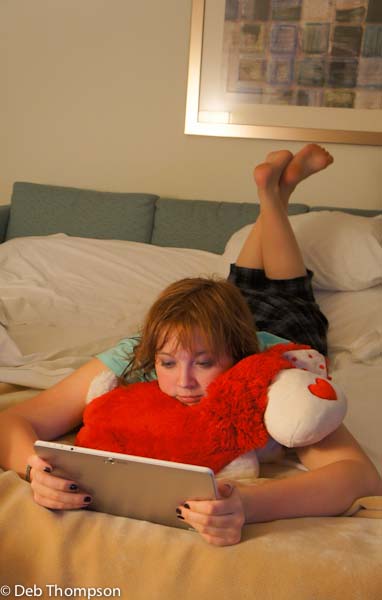 Em & I have a new favorite travel companion…..my Acer Iconia Windows 8 Intel Tablet. Yep, it's true. It has been a great traveler. The best thing is the long lasting battery life. We used it for a couple hours in the car and then for a bit at the hotel and the battery still had 30% life left. I love that about the tablet!
We are always finding fun new apps to play with on the tablet. Some new app finds include:
3D Logo Quiz: The app shows you a logo and you have to identify it. Not only does the game require you to figure out what the logo is you also need to know how to spell the company name.
Space Invaders Win8: Kick back to the 80′s with this game!
iCookbook: All kinds of tasty recipe ideas. I love browsing through this app for inspiration.
I'm still searching and looking for more apps to play with on the tablet. I need to find some great travel apps and more game apps to give Em something to do while we are on the road. I'm also hoping to find a great cover/stand for the tablet and a keyboard. I plan on packing this lovely tablet in my carry on when I fly to Spain for my Mediterranean cruise with The Rebel Chick in a couple months.
Taking the tablet with me on a few short road trips was a great experiment to let me know how well this tablet will work for longer trips. I'll be in Europe for almost two weeks and I'm tentatively planning another cross country road trip to Yellowstone this summer. Taking the tablet versus a laptop will save room in my luggage and be so much easier to use when I'm sitting in a tinnie tiny airplane seat, right? I've used the Hulu app a few times and its so easy to watch a movie which means I'm starting a watch-list right now for great things to watch on the plane.
Do you travel with a tablet? What do you love about it? Any suggestions?