As parents we want to do everything we can to keep our children safe and healthy. Part of that is staying informed about what can harm our baby.  I have a niece that is 7 months old and I would do anything to make sure she stays healthy. Thanks to the RSVProtection.com site I found a lot of useful information about RSV and ways to prevent it.
If you have small children please take a moment to read the following information to learn more about RSV and how to keep your baby safe.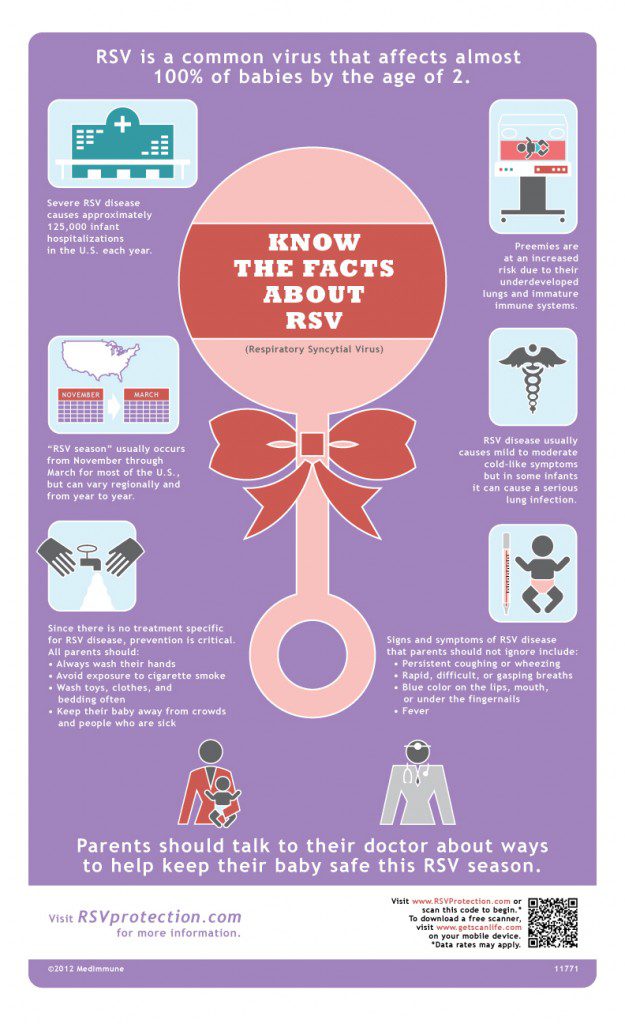 WHAT IS RSV?
RSV is a virus that attack the lungs and breathing passages. Most children will have RSV by the age of 2. RSV spreads quickly among children. Most recover in a week or two, but the germs can continue to spread for one to three weeks.
SYMPTOMS OF RSV (that require IMMEDIATE medical attention)
~Coughing or wheezing that does not stop
~Fast or troubled breathing
~Spread-out nostrils and/or a caved-in chest when trying to breathe
~Bluish color around the mouth or fingernails
~Fever (especially if it is over 100.4°F in infants under 3 months of age)
FACTS TO KNOW ABOUT RSV
~Almost every baby will contract RSV by age 2, but only 1/3 of moms say they've heard of the virus.
~Serious RSV infection is the leading cause of infant hospitalization, responsible for more than 125,000 hospitalizations and up to 500 infant deaths each year.
~RSV occurs in epidemics each fall through spring. The CDC has defined "RSV season" as beginning in November and lasting through March for most parts of North America.
~Certain babies are at an increased risk of developing serious RSV infection, so it's important to speak with a pediatrician to determine if a baby may be at high risk for RSV, and discuss preventive measures.
~There is no treatment for RSV, so it's important for parents to take preventive steps to help protect their child (wash hands, toys, bedding frequently; avoid crowds and cigarette smoke).
HOW TO HELP PREVENT RSV
RSV spreads as easily as other contagious germs like the flu and cold. Just like those viruses it can spread through sneezing, coughing and touching. Taking a few precautions can help keep your baby safe.
~Wash your hands thoroughly before touching your baby, and ask others to do the same
~Don't let anyone smoke in your home, or near your baby
~Wash your baby's toys, clothes, and bedding often
Learn more at https://www.rsvprotection.com/
disclosure: I wrote this review while participating in a campaign for Mom Central Consulting on behalf of MedImmune and I received a promotional item to thank me for my participation.