12.24.12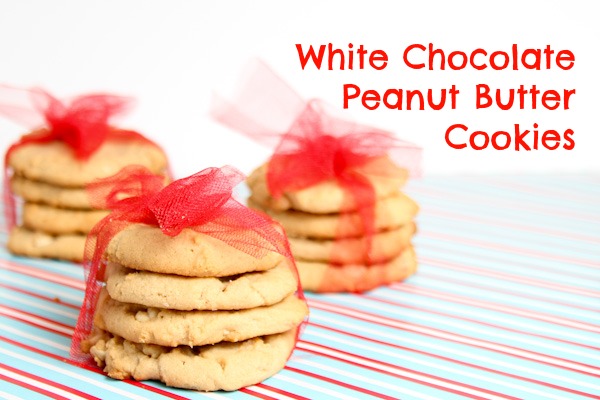 This recipe is similar to one that I printed off the internet a couple years ago, tucked into book and promptly forgot about it. Well, I came back across the original recipe again and decided adapt them to my liking.  These cookies mix up fast and, since, they are drop cookies, require no rolling and cutting. I love the blend of white chocolate and peanut butter in these cookies, but the best part is the sea salt sprinkled on top!
White Chocolate Peanut Butter Cookies
Ingredients
1 stick soft butter
½ cup granulated sugar
½ cup packed brown sugar
¾ cups creamy peanut butter
1 large egg
2 tsp vanilla
1¼ cups flour
½ tsp baking soda
¼ tsp kosher salt
¼ cup additional white chocolate chips
Instructions
Preheat oven to 350 degrees. Line 2 cookie sheets with parchment paper.
Cream butter, sugars and peanut butter together. Mix in egg and vanilla.
In another bowl, mix together flour, baking soda, and salt. Add to butter mixture and mix until combined. Blend in ¼ cups white chocolate chips. Scoop heaping tablespoons of dough onto cookie sheets, gently press down until ½ inch thick. Sprinkle with additional kosher salt if desired. Bake 12-15 minutes or until edges are golden brown.
Cool on cookie sheet for 10 minutes and then move to wire rack.
UPDATE:
A reader recently had problems with this recipe and I hate when that happens…makes me wonder where I went wrong. Did I write down an ingredient or amount incorrectly? This is the problem when I'm writing on and editing sometimes. Let's chalk it up to human error. After reviewing the recipe again I'm not sure why it didn't work, but to make them a bit more fail proof I adjusted the amount of peanut butter and removed the melted white chocolate. Please let me know if it still doesn't work. I'm going to ask Em to make these today with out my help and see how they turn out. Sometimes it helps having a second pair of eyes on a recipe.