12.22.12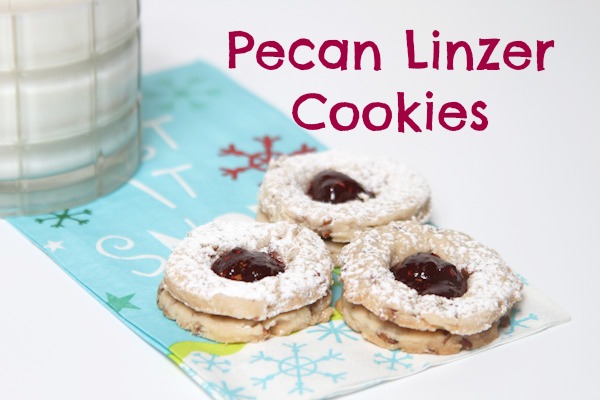 I was browsing through the most recent Everyday with Rachel Ray magazine and came across some wonderful cookie recipes. Of course, I had to try a few of them. First up was Peanutty Linzer Cookies, which I promptly changed to Pecan Linzer Cookies because I didn't have any peanuts in the house. I also added some orange flavoring.
These were a bit of a pain to make because when I tried to cut out an inside circle it would break the cookie in half. I just pinched them back together and they baked up fine, but it was frustrating while I was cutting them out.
It was worth the effort, they are delicious.
Pecan Linzer Cookies
Ingredients
¾ cups pecans, finely chopped & toasted
½ cup confectioners' sugar
1¾ cups flour
1½ sticks unsalted butter, room temp
1 tsp. pure vanilla extract
½ tsp. lemon extract
½ tsp. salt
¼ cup raspberry jam
confectioners' sugar
Instructions
Preheat oven to 325 degrees. Line 2 cookie sheets with parchment paper.
In a large bowl combine pecans and 2 tbsp confectioners sugar. Add the flour and mix.
In a separate bowl mix butter, 6tbsp. confectioners' sugar, the vanilla, and salt; mix until just blended. Add the nut flour and mix.
Divide the dough into 4 pieces. Cover 3 of them in plastic wrap and roll the fourth one out between two pieces of wax paper until the dough is ¼ inch thick
Using a 2″ cookie cutter, cut out cookies and place on the cookie sheets. Using a 1″ cookie cutter, cut the center out of half the cookies. Repeat with each piece of dough. Mix the scraps together and roll back out. Repeating the process until all the dough has been cut into cookie shapes. Refrigerate the cookies for 10 minutes.
Bake 8 minutes until cookies are a golden brown. Let cool on pan for 2 minutes and then transfer to wire rack. Top each cookie center with ½ tsp of jam. After the cookies are completely cooled. Dust the cookie rings with confectioners' sugar and place on the jam-topped cookies.