11.29.12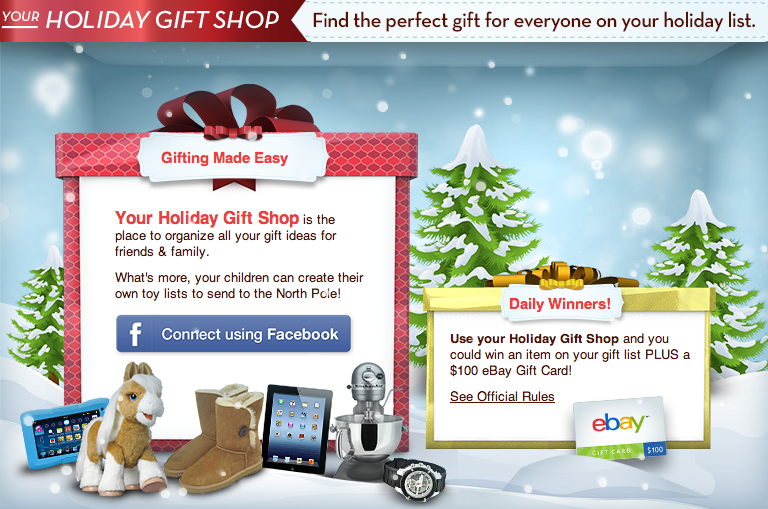 Dylan was home this past weekend and I asked him to share his Chirstmas wish list with me. I got pretty excited when he told me one of the items could only be found on eBay. If you watch and check eBay often there are really good deals to be found and I don't mind buying used if the item is still in really good condition. He wants some gaming pieces and the prices started pretty low so I'm hoping to pick them up for a reasonable amount.
To help me organize my Christmas list I am using eBay's holiday gift shop which offers me a place to organize all my gift ideas for family and friends via a facebook app. It's been really easy to use and by using the app I'm automatically entered to win an item from my list plus a $100 eBay gift card. That would be very helpful this year.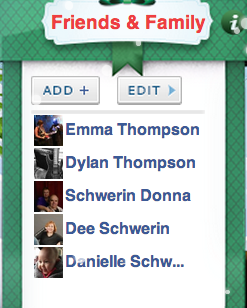 The great thing about the app is that when I add a name to my list it pulls up a list of recommendations for that person. This is especially useful for those hard to buy for people in my life. Scrolling through the recommendations is the only way to add gift ideas to each individual gift list, but its a fun way to unique items. Â I do wish there was a search feature to add my own selections, but I still find it a useful tool. Also, eBay offers a mobile app so I can buy gifts on the go!
I've added all kinds of great ideas to my lists for family.
In addition to the item Dylan requested I also found a few other things he might be interested in.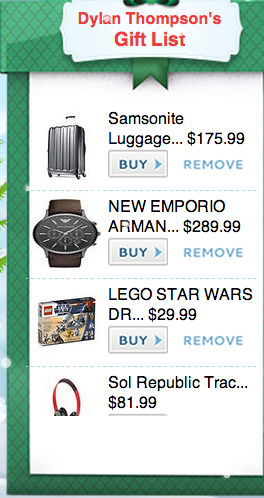 I think the headphones and legos are a must. I've added the watch & luggage to the cart as potential gifts.
Emma is a little tougher. She has a very individual style, but I think I'd be safe with any of these choices: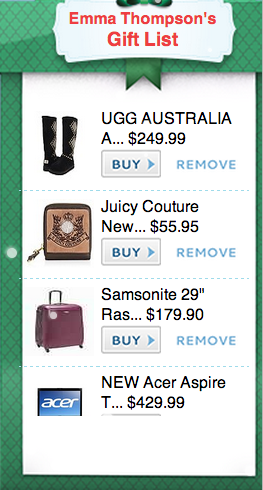 I love the Ugg boots and figure if I buy them for her I might be able to borrow them. Plus I think she would love the design on the boots. She is also in desperate need of a new laptop.
When I start shopping for my sisters it gets a little tougher, but I found a few things that I think might make Christmas morning a little fun.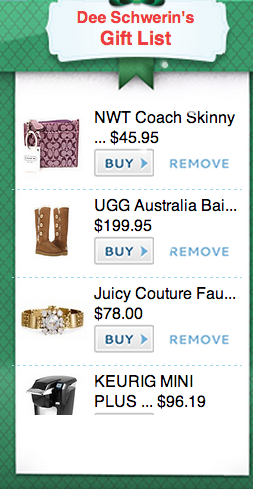 Love the Keurig Mini and the Juicy watch. Hmmm…I'm sensing a trend of adding what I really like to the list. Although, the Keurig Mini is a perfect gift for my coffee loving sister.
I would share some other lists, but I don't want to completely giveaway my holiday list just in case a family members swings by the blog and sees what i am planning and plotting for the holidays.
If you are looking for an easy way to organize your holiday list and want some great gift ideas click here and use the Facebook app. Remember, you'll also be entered to win a gift card and item from your list as well.

disclaimer: I was hired by Splash Creative Media to write this post on behalf of eBay. All thoughts and opinions are my own.

Cheers,