11.23.12
I would like to introduce Nancy to Just Short of Crazy readers. She is our brand new infant and young children product reviewer. As a mom of three young girls with a fourth child on the way she is very knowledgeable about the best products and toys for children. Be sure to watch for more reviews from Nancy. We have a lot of fun new products to share with you.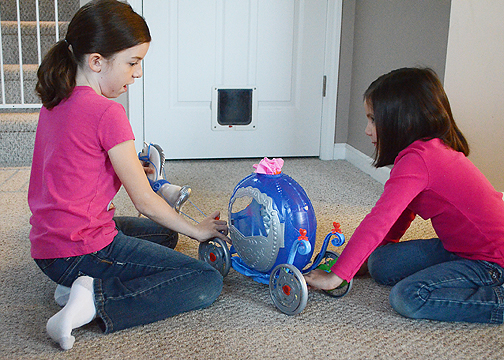 We have three little princesses in our house ages three, six, and eight. You can only imagine the squeals of delight when we opened up the Disney Princess Cinderella's Transforming Pumpkin Carriage. This toy is every little girl's dream come true. You get to transform a pumpkin into Cinderella's carriage and back again. I honestly wish I would have videotaped their reactions. I couldn't believe how many times my three year old said, "Oh my gosh".
The first great thing I can point out is there isn't much to put together prior to play. I was so grateful for this as there were three little girls anxiously watching me and trying so hard to be patient for me to get it ready to play with. The only thing that needs to be put together is the harness on the horse. Easy peasy!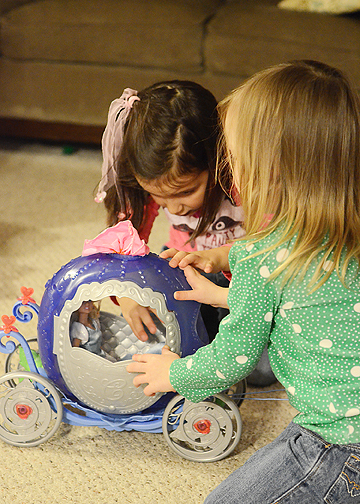 I was a little skeptical at first as to how easy it would be for the kids transform from pumpkin to carriage on their own. We've had plenty of toys that always seem to need help from Mom. I was so pleasantly surprised at how easy it was for the older girls to make the change from pumpkin to carriage and back all on their own. The three year old would still need a little help with this step though. I will say that there does have to be some amount of caution when transforming from pumpkin to carriage.
We found that you really needed to go slow and make sure that the pumpkin cover was smooth and made small so that it could easily be pulled back down into the carriage. It will be easy enough though to teach the kids to remember this small step. (Edited several days later: the pumpkin cover has become much easier with use to be pulled back down into the carriage. I even caught my three year old doing it all on her own!)
One feature on this toy that I can really appreciate is the pumpkin cover for the carriage. It's always so hard to keep track of pieces of toys in a house with three kids. Things can often get misplaced. The greatest thing about the pumpkin cover is it so cleverly stores inside of the carriage and does not come off! There is no chance of losing it! There are still a few pieces that are removable but I do love that the main piece has no chance of getting lost.
This toy is sure to bring hours of fun to our little girls. I'm thinking the only downside is going to be trying to get the three girls to share it!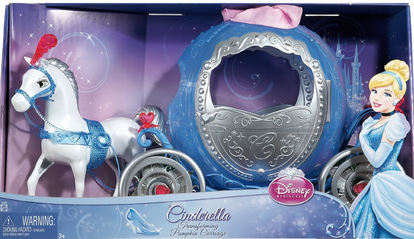 You can find the Disney Princess Transforming Carriage at Amazon for $43.70. At the writing of this post Amazon had the best price. Toys R Us is $49.99 and Walmart is $45.97, both comparison shopped for online prices.
Happy Holidays!
Nancy