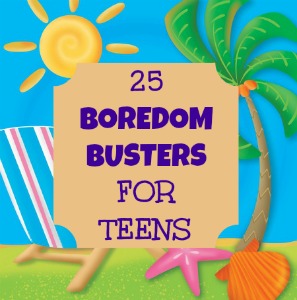 My daughter is always boooooorrrrrreeeeeddddd during the summer months.  We sat down the other day and came up with a list of activities that would help keep her entertained. Here is what we came up with. Please feel free to leave additional suggestions in the comments. I would love to hear from you

1. Go to a concert
2. Have a movie marathon of really bad, tacky scary movies
3. Learn to cook something new each week.
4. Read 100 books
5. Learn to read a map (NOT the gps kind, the actual paper kind)
6. Visit a National Park
7. Train for a 5k, hike, walk, etc
8. Learn new songs on the drums (for others: learn an instrument)
9. Bake cookies
10. Go to the beach
11. Mow the grass, wash the dishes, clean your room (ie: chores..not fun, but it helps the time go by)
12. Invite your friends over and have a picnic
13. Stargaze, learn the constellations.
14. Find a new hobby
15. Ride your bike
16. Start a blog
17. Create
18. Play tennis
19. Start a business (dog walking, lawn mowing, babysitting, etc)
20. Turn up the music and dance
21. Go bowling
22. Visit a museum with some friends
23. Jump rope, hula hoop, skip
24. Go to the library
25. Attend a summer festival